03 Feb

TRUSTED EXHIBITION STAND DESIGN AND STAND FABRICATION COMPANY IN LAHORE

 Exhibitions and trade shows are special in the sense that the audience present there are the people that are actually looking for a type of business that an exhibition has to offer. People are not at the exhibition for any purpose other than approaching a certain business directly. They provide an opportunity for both the prospective clients and the business to have a casual yet fruitful interaction to their mutual advantage. Therefore, they must not be taken lightly in order to avail their potential to the utmost extent. The first thing that would grasp the attention of the audience is the exhibition stand design and its relevance to what they are looking for. Black Diamond is pleased to proclaim that it has served and serving various high-level organizations to achieve their exhibition motives. Now, what has led Black Diamond to be trusted by such huge bodies with their exhibition setups? Allow us to give you a little insider info to help you decide better.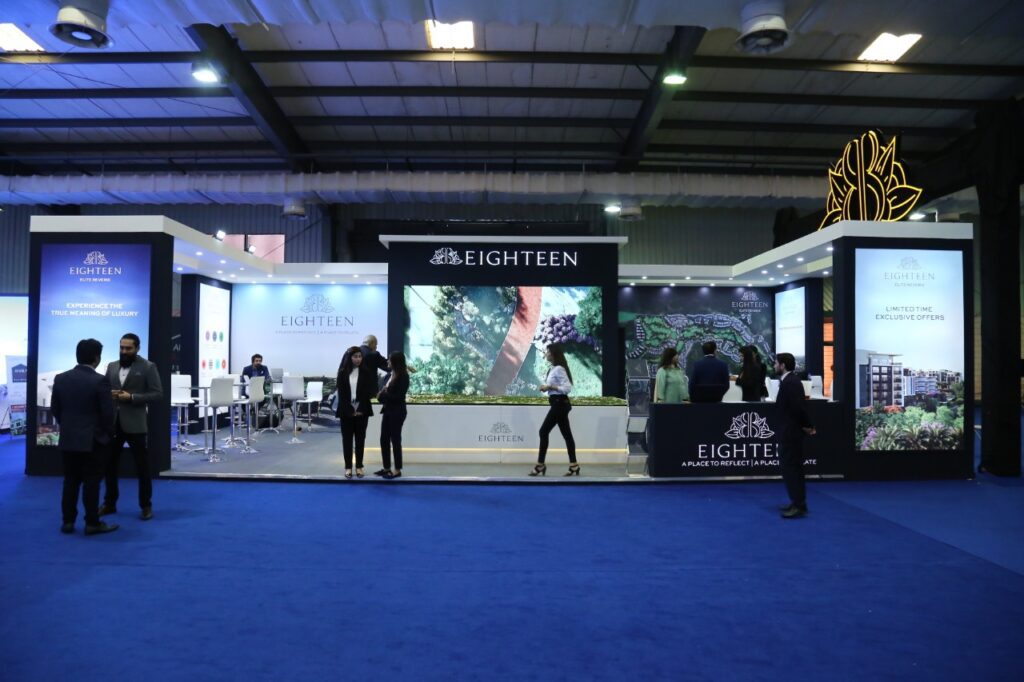 Talented and dedicated exhibition stand design team:
Behind all this success of Black Diamond, the most deserving credit goes to our educated, talented and creative exhibition stand design team. They are seasoned professio1nals with the right kind of training and continuously updated skill sets and knowledge. Our stand design, for each client, is guaranteed unique, and never have they ever surfaced on any exhibition setup before. Our designs are guaranteed to inspire awe amongst the spectators and have always been a great lure for the visitors. We have led and designed several successful exhibitions and trade shows for our esteemed clients and that is the reason we are always trusted with our sole discretion and design capabilities.
Our team for exhibition stall design, like all our other ventures, are dedicated and are not burdened with cross-team ventures unless we have a project requirement and that is what brings the best results out of them.
Trend awareness:
Like everything else, trends vary in the exhibitions as well. One of the greatest advantages of working with Black Diamond is that we know what sort of exhibition arrangement people will find appealing on the timeframe we are looking to plan it. Black Diamond has been arranging and designing exhibition setups for as long we have existed. Therefore, we are well aware of the shifting mindset and the trend alike. We have proven ourselves to be a great guide and an exhibition partner for countless and very sizeable organizations all over Pakistan. Our exhibition stall design service produces the most unique solutions and designs that are not only appreciated by the clients but also the public visitors of the exhibition as well.
Great stand and stall fabrication setup:
Let alone the design facility, we have the most accomplished exhibition stall fabrication setup at our disposal as well. Our fabrication facility has everything you will need to get the most out of your exhibition intent. They have everything they need to realize our creative stall design that had surfaced during the design phase of the entire process. They possess state of the art facility and training to keep up with the everlasting fabrication requests from our side. Our stall fabrication services could have never been punctual and swift if it wasn't for our fabrication facility. We owe it to them and they will continue to serve our requests and return a happy client for as long as we are in the exhibition stand design and fabrication business.
Vertically integrated setup:
One of the greatest advantages of working with Black Diamond is that we are a one-stop-shop for all your exhibition setup needs. You come up with your request and once you have struck a bargain with us, the next place you will be is the venue of the exhibition for the installation inspection. Such is our efficiency with our work. That is why we call ourselves a completely vertically integrated and hassle-free exhibition service. We provide the most convenience you can ever think of but ideally, we just bother our client once we approach each phase of completion.
Black Diamond is the most accomplished exhibition services provider you can ever come across and that is what makes it suitable for very large organizations of Pakistan. If we can serve them, we sure can serve you. You can reach us out through our contact details and see for yourself what we are capable of, with our great history of success in exhibition management and setup. We provide the maximum efficiency you can get from an exhibition stall design and fabrication set up in Pakistan.