30 Sep

How to collaborate with an event management company to ensure the success of your event?

The events sector is a dynamic one. Numerous cogs start turning as soon as an organization decides to conduct an event, and every component must cooperate at the same time. Collaboration is essential because of this. Working together is crucial, whether it's a committee at a company, another vendor, or an event management company collaborating on a particular area of a much broader event.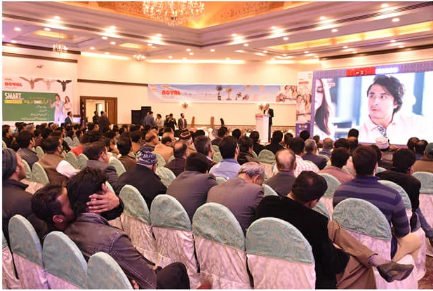 No doubt event planning and execution is always the toughest task and sometimes it becomes very challenging when you hire nonprofessional event planners Not only this but many more reasons become a reason for a challenging scenario for example details, deadline, duties etc., working with a professional best event planner in Lahore can cover this all up for you, for example, planning a corporate event, real estate event. Convention, product launch or anything. Companies that specialize in event management are usually referred to as event planners or organizers, one of the most amazing things about cooperating the event planners is that they know and experience they can easily make your dream event come true. Not only this they are also professional and guarantee the success of your event 
In this article we will go through all the aspects of event planning and what will be the results after cooperating with the event planners. Let's start this article with the aspects of event planning
Select the Best Event Management Firm
The success of your event depends on your choice of the top Lahore, Pakistan, event management company. Conduct in-depth research, read reviews, and seek referrals to find reliable event planners that have a track record of putting on events that are like yours. Make appointments to meet with possible partners, such as event planners and coordinators, to go through your goals and see whether they are compatible with their areas of experience and skills. Make sure they have the tools, such as event planners, designers, and technological specialists, to manage your event successfully by reviewing their portfolio, contacting references, and checking their availability.
First The goals & the objectives of your event;
So, the very first thing when you are doing a collaboration with event management I to clarify them that what you want. What are your goals, what are your thoughts and what is your vision and dream and purpose of the event. When the event planners understand the concept behind your event, they will truly put a lot of effort into and help you with the services to meet your specific needs.
Make Use of Their Knowledge
Companies that specialize in event management bring a plethora of expertise and market knowledge to the table. Throughout the planning phase, put your faith in their knowledge and follow their advice. They may provide you advice on a variety of topics, including logistics, venue selection, décor, food, and entertainment. You may improve the quality of the whole event experience by utilizing the knowledge of the Best Event Planners in Lahore, Pakistan.
Establish Clear Communication
No doubt, communication is the key so why not you need to discuss and tell the event management company that what you need. Open and transparent communication from both sides is essential to avoid misunderstandings and ensure that every detail is in line with your vision. Establish regular meetings and channels of communication with your chosen Event Organizer to keep everyone on the same page. Share all relevant information, including your budget, preferred vendors, and any unique requirements or constraints.
Work together on financial planning and budgeting
One of the most important things of event preparation is budgeting. Working with the best event management company will determine the budget that is both reasonable and affordable and in line with the goal. It is so true that your budget can be successfully allocated by the event management team.
Enhance your event with creative collaboration
Using creativity will help your event stand out from the crowd. Work closely with the event organizer of your choice's creative team to come up with original thoughts and ideas that fit with your vision. Their imaginative involvement may make your event memorable, whether it's building a fascinating stage, producing a thematic ambiance, or organizing interactive activities for guests.
Selection and Management of Vendors
An broad network of reliable suppliers, ranging from caterers and florists to audiovisual businesses and photographers, is available to event management companies. With the help of your chosen Best Event Planners in Pakistan, choose vendors together to get the best deals possible.
Just because something seems easy doesn't mean it is. When planning a function, you really need an event planner or organizer since, without one, it is impossible to put together something extraordinary or, in my opinion, a successful event. So, in this post, we'll look at some of the essential details that anyone trying to plan an event should keep in mind. Therefore, the first thing we should address is the fact that working with any event management is not as simple as many people believe because it requires a lot more things.
Collaborating with the best event management company in Lahore, Pakistan, such as Black Diamond, is a strategic decision that can lead to the successful execution of your event. By defining your objectives, choosing the right partner, maintaining clear communication, and leveraging their expertise, you can ensure that your event meets or exceeds your expectations. Remember that collaboration is key to creating a seamless and memorable event that leaves a lasting impression on your attendees. With the right event management company by your side, such as Black Diamond, your vision can become a reality, and your event can achieve the success it deserves.