02 Oct

How does exhibition stall design and fabrication impact the success of trade shows and expos?
Brand's Value & Exhibition
Almost every country executes events worldwide or nationwide. During these Expos and exhibitions stalls and stands matter a lot to enhance the brand's value without this stall fabrication or design these expos are worthless or we can say in easy words that these stall designs and fabrication are the success of trade shows and expos. Stand and Stall has a significant impact on trade exhibitions and expos. A good and creative unique stall design means that you are already marketing your product. The exhibition stall and exhibition stall design indeed speak brand and reputation of your product Everyone will notice you. Choose wisely when hiring an event planner or exhibition expert, as the stall design and fabrication are key attractions.
Pakistan Expo and Trade shows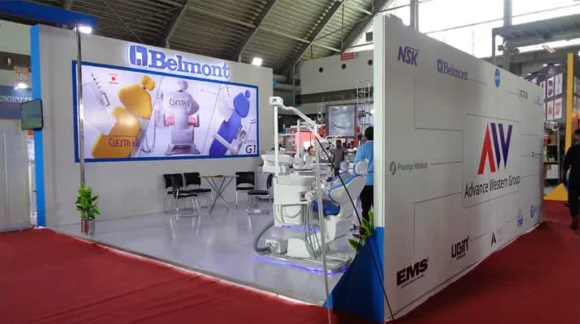 Pakistan Expos are held twice a year, and when it comes to finding the best exhibition professionals, there is always a rush. Some people choose the right option, while others choose the wrong ones. When you choose the wrong option, you know that there are going to be problems ahead. But if you pick the right option and hire professionals who have a track record of success, then you will be noticed in the exhibition.
Sustainability is a developing issue in the modern world. Take their dedication to ecologically friendly techniques into account when selecting an exhibition stall design and fabrication company. A business that places a high priority on sustainability not only helps the environment, but also shows initiative and responsibility.
Eco Friendly & Sustainability
Seek out businesses that utilize eco-friendly materials, engage in energy conservation, and have a mechanism in place for recycling their waste. Choosing a business with strong sustainability practices aligns your brand with principles that appeal to environmentally sensitive attendees. This distinctive strategy can distinguish your expo presence from others and demonstrate your dedication to a greener future.
Creative and Uniqueness
The design and construction of exhibition booths are essential to the success of trade exhibition stall design and expos. A well-designed stand grabs visitors' attention keeps them there, and efficiently promotes your business. It raises brand visibility, boosts foot traffic, and produces a memorable experience. Potential clients are drawn in and made to feel good by the design, visuals, lighting, and interactive components. Your trade fair or expo's success can be significantly impacted by a professionally designed and constructed stand. In this article we will tell you some of the facts that had a successful impact on trade shows and expos.
Guide
First, you need to make sure your display is visually appealing and eye-catching. Second, you need to think about how your staff behave. While the exhibition's main purpose is to display your product, it also serves to show how you interact with your visitors. Good behavior from your staff attracts visitors to your product and increases your chances of making sales. Third, there are many types of exhibits and stalls. There are modular stalls, inside stalls, shell-style stalls, fabric-covered stalls, customized stalls and more. Ensure stall safety by securing stands, preventing movement, and using protective measures.
In conclusion
When you attend a large exhibition or trade show, having a customized stall and stand gives you the chance to showcase your brand or company and its products to your audience. In today's world, people prefer to buy things online; however, they go to an exhibition stand just to feel the products. Therefore, it is very important to display your best products. And of course, the way you display them is the key to good exhibition stall design. You should spread your entire range and let visitors touch all the products.