30 Sep

What are the essential strategies for creating a successful event or trade show?
Introduction
Pakistan is indeed an underdeveloped nation, and everything here is growing or developing daily, just like other industries. People are growing their businesses, and they are also promoting them by exhibiting their brands at exhibition services, so it is true that every city constantly needs an event planner or exhibition specialist. There are many event management firms in Pakistan. This article will explore tactics and identify the event management company that can guarantee your total success. An event or trade fair must be carefully planned and put together to succeed.
Every aspect counts, from attractive booth designs to compelling marketing plans. This article discusses crucial tactics to make sure your event or trade show not only achieves its goals but also has an indelible impression on readers. In just 6 to 7 easy essential strategies, we will tell you how to create a successful event or trade show so let's get started… To ensure that your next trade show is a success then try to follow these steps.
The Size you need to book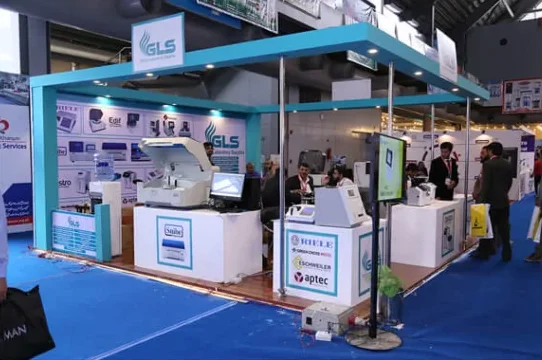 The size and location of your booth, crucial for business success, require careful selection well in advance. Larger booths, typically closer to the entrance, attract more visitors. Don't fret if budget constraints prevent reserving a larger space; exhibition services can help maximize any booth size.
Design your booth with creativity and perfection
At a trade fair, you will only have a few seconds to grab someone's attention and persuade them to stop by your booth. Consider your exhibition services floor presentation to attract attention to your brand.
Choose the right Team/Staff
Before the event, every employee must comprehend your brand, products, and trade show objectives. After setting goals and budgets, involve the right individuals, including exhibition services, in crafting a detailed action plan with clear duties, responsibilities, and deadlines for the entire team.
Choose your Budget
Create a budget once you've decided which performance you'll attend and what your objectives are. Without a budget, expenses may easily get out of hand and disrupt your well-laid goals. What are the costs for your space leasing, trade show exhibit, shipping, staffing in all capacities, advertising costs, and many more? Many first-time exhibitors, as well as even seasoned experts, make the error of failing to arrange for all the minute particulars and variations that might arise during a trade show. (So, to get rid of these responsibilities you should choose black diamond for your next trade show and fabrication they will ensure everything from budget to execution, etc., and make your exhibition services a success.)
Appropriate advertising
The stand team is not the only one responsible for communication there. It's crucial to plan carefully and with the appropriate equipment. For example, you need to make posters, flyers, visiting cards, etc. So, people will know more about you and your brand. Boost exhibit excitement with social media, a landing page, and email campaigns. Attending trade exhibition services can indeed be quite draining. They should feel comfortable coming to your booth to relax for a little duration. Offering customers cozy chairs to sit on while you make your pitch is a good place to start.
Your exhibition services stall's success depends on having well-defined goals, appealing design, efficient marketing, interesting content, and excellent on-site administration. These techniques ensure your booth stands out, benefiting your company with lead generation and brand awareness. In underdeveloped Pakistan, event planners and exhibition experts are in high demand due to the growing business landscape. Here's what you need to know about the strategies and companies that can help you make your event stand out. Ensure your event's success by planning and executing it meticulously; this article offers valuable tips for achieving that.