19 Sep

Lasting impression at your next Expo? Choose Black Diamond for your exhibition stand and fabrication.
Choosing Black Diamond for a Lasting Impression at Trade Shows

Trade stand fabrication shows offer an excellent platform for new ideas. In this highly competitive environment where every booth vies for attention, it's crucial to stand out. That's where Black Diamond comes in. Choose Black Diamond for an unforgettable presence at your upcoming trade show. We offer top-notch solutions, backed by our proven track record and expertise.
Furthermore, we have a strong presence in Pakistan, a renowned hub for exhibitions and stand fabrication. You can depend on us to generate ideas that align with your preferences and provide sophisticated brand solutions. We offer a comprehensive package, assisting clients in various areas, ensuring their brands shine in the market and at exhibitions.
A Name of Excellence
We Black Diamond is not just a company but a legacy of excellence in every trade show booth design and stand fabrication. With a history of successful past records, we have consistently raised the bar in the industry. Our journey to becoming a trusted name in trade show exhibitions is marked by our hard-working team, innovative ideas craftsmanship, meeting deadlines, client's feedback and unwavering commitment to our clients' success.
Innovative Booth Designs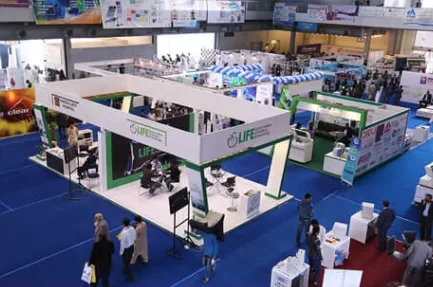 The heart of any successful trade show presence is the booth itself. Black Diamond doesn't just build booths; but also create captivating experiences. Our designs blend aesthetics and functionality, engaging visitors. Materials and parts match your brand's identity and message. We choose materials carefully for stability and visibility. Black Diamond brings your ideas to life, be it contemporary or formal. One size does not fit all in the world of trade show booths. Black Diamond understands this and offers fully customized solutions. They take the time to understand your objectives, target audience, and unique requirements. Then, they customized designs to suit your specific needs.
Innovative Technology
In a world where technology is constantly evolving, moreover, we stay at the forefront. We integrate cutting-edge tech into their booths to create immersive experiences. For instance, interactive touchscreens and 3D objects are just a few examples of how they can elevate your trade show presence.
Services
Black Diamond offers a comprehensive range of services, and to begin with, they seamlessly manage every aspect of your trade show experience. Starting with initial design concepts, progressing through stand fabrication, setup, and concluding with takedown, they have you fully covered. With this all-inclusive approach, you can rest assured of a seamless and stress-free experience for you.

Client-Centric Approach
What sets Black Diamond apart is their client-focused approach. They don't just construct your booth; they bring your dream stand to life. Moreover, they understand that your success directly impacts their own. Therefore, their team collaborates closely with you, providing expert guidance and assistance throughout the entire process. Your success is their utmost priority.
Furthermore, fully grasping your company's values, cultural influences, and organizational culture is a critical aspect of their work. Consequently, this allows them to craft a completely personalized exhibition stand that reflects every aspect of your company's identity. They have the confidence to outperform any competitor, regardless of the project at hand.
Are you launching a new product? In addition to this, Black Diamond can design a booth that showcases its features and advantages. Do you desire a warm and inviting ambiance? Rest assured, they can accommodate that as well. Their expertise lies in creating tailored solutions, and this is why they consistently achieve exceptional outcomes.
Final Thoughts
If you want to make a lasting impression at your upcoming trade show, look no further than Black Diamond. Furthermore, With years of experience, unique designs and stand fabrication, custom solutions, and much more, we're the perfect partner to help you stand out in the hustle and bustle of trade shows.
Put your trust in Black Diamond, and witness your brand leave an unforgettable mark.